'LoKost' is the name we've given to our new budget pool cover. Despite its low price, the cover is exceptionally well made from quality materials. So just how did we get the cost of our 'LoKost' pool covers so low?
First, we purchased a large quantity of ready-made pool covers. These were manufactured to our precise specification and are designed to fit standard size pools from 6 x 3m up to 12 x 6m.
The weight of the pvc material is set at 390g/sq.M – down from our standard 580g/sq.M, but way higher than competing budget covers as low as 70g/sq.M.
You install the cover yourself. It's simple and straightforward. With each cover we offer optional anchoring mechanisms.
WHAT ARE THE PHYSICAL CHARACTERISTICS OF A LoKost COVER? 'LoKost' covers are made from UV-resistant, PVC-coated membrane. They have a 4cm heat-welded reinforced seam on all four sides, with eyelets every 100cm around the perimeter.
HOW DOES 'LoKost' COMPARE WITH OTHER BUDGET COVERS? Incredibly well. Budget pool covers have traditionally been made from lightweight 70g/sq.M woven polyethylene material. Because of their cheap, flimsy nature these covers are vulnerable to UV degradation and rarely last more than a season or two. 'LoKost' covers are completely different and offer a combination of good design, quality materials and much longer life.
WHAT ARE THE FEATURES AND BENEFITS OF 'LoKost' COVERS?
They offer big savings for all customers, but especially those with larger pools.
They can be used on both skimmer and overflow pools.
Extensions 200 x 150cm can be attached to the main cover; these enable Roman and Walk-In Steps to be covered.
The covers come with an overlap of 30-50cms on all four sides.
The dark blue colour blocks most light transmission through the cover; this inhibits the formation of algae in the pool.
They're easy for customers to self-install.
BEST OF ALL they're in stock now… and available for immediate delivery.
WHAT ARE THE DRAWBACKS TO a 'LoKost' COVER?
They cannot be used on an empty pool, or a pool where the water level is lower than normal. Our mesh Winter Debris Covers are better suited in that situation.
The covers come rectangular only and cannot be modified to freeform (shaped) pools.
Because the covers are ready-made, we cannot make provision for stainless steel ladders. If you have a ladder, please check it is removable before you order a cover.
Water which accumulates on top of the cover will need to be removed periodically, as it otherwise presents a safety hazard.
Although our 'LoKost' cover is strong, it should not be regarded as a safety cover because the anchoring mechanisms are not childproof. Check our 'Elite' Pool Safety Fence instead.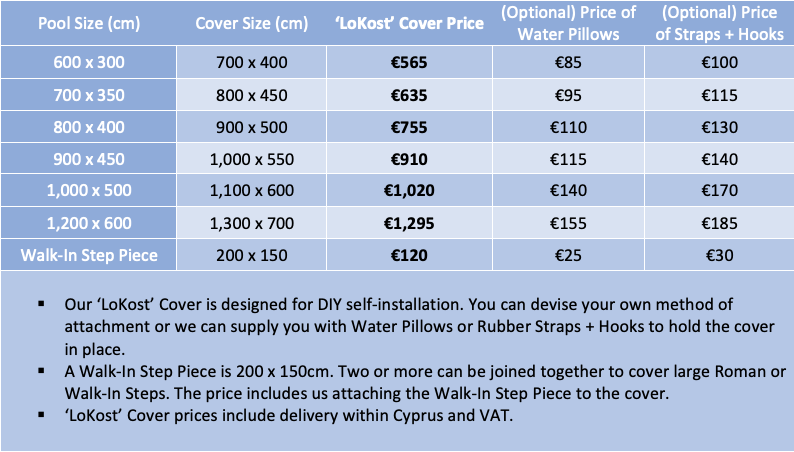 I'M INTERESTED, HOW DO I GET STARTED? Take some photos of the pool from an upstairs window and send these to us on WhatsApp, Viber or email. Let us know the size of the pool and your email address and we'll soon come back to you with an offer.
WARRANTY: Our 'LoKost' covers and Water Pillows come with a conditional 1 year warranty.
Installation Photos
Click images to enlarge
More Helpful Info.
Click images to enlarge

INTERNATIONAL ORDERS:
We're happy tο deliver our LoKost Pool Covers worldwide.